Each year Public Interest Alberta hosts an advocacy conference addressing pressing public interest issues in Alberta. These conferences are essential opportunities to work with other individuals and organizations in developing public solutions that strengthen our communities and provide us with the tools to mobilize us into action to build a better Alberta for all. 
Learn more about our upcoming 2017 conference, BOLD Advocacy for BIG Changes.
---
OUR PAST CONFERENCES:

Keynote Speakers:
Larry Brown, Canadian Centre for Policy Alternatives
Elaine Bernard, Executive Director of the Labor and Worklife Program at Harvard Law School
---
2015 - 9th Annual Conference, A Just and Fair Alberta for All: Making it Happen
Keynote Speaker - Avi Lewis
Plenary speakers:
Asbjørn Wahl, Norwegian Union of General and Municipal Employees
Sarah Hainds, Chicago Teachers' Union
Colleen Fuller, Health Policy Researcher
Bill Phipps, Social Justice Advocate
---
2014 - 8th Annual Conference, Reasserting the Public Good in a Corporatized World
Keynote Speaker - Vandana Shiva 
Plenary speakers:
Dr. Alex Himelfarb, Former Clerk of the Privy Council
Dr. Craig Holman, Government Affairs Lobbyist for Public Citizen
---
2013 - 7th Annual Conference, Fighting for Our Future: People Power vs. Corporate Control
Keynote Panel - Fighting for our Future, Speakers: Linda McQuaig, Crystal Lameman, Peas Peas Ayui, Gregor MacLennan  Plenary speakers: 
Afsar Jafri, Coordinator Focus on the Global South, Focus-India
Sean Devlin, founder and Creative Director of Truthfool Communications, and founder of ShitHarperDid.com
Kevin Millsip is the Co-founder & Director of Next Up
Julia Pope is a board member and director of Strategic Communications at Leadnow.ca
---
2012 - 6th Annual Conference, Make Shift Happen: Mobilizing the Power of the People
Keynote speaker: John Ralston Saul
Plenary speakers:
Armine Yalnizyan, Senior Economist, Canadian Centre for Policy Alternatives
Dr. Danielle Martin, Board Chair, Canadian Doctors for Medicare
Anil Naidoo, Coordinator, Blue Planet Project
---
2011 - 5th Annual Conference, Mobilizing for a Better Alberta: Strong Communities, Public Solutions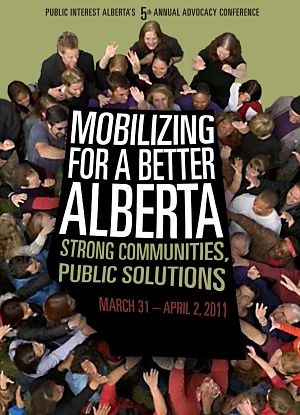 Keynote speaker: Dr. Dennis Shirley, Professor, Lynch School of Education, Boston College
Plenary speakers:
Rob Hopkins (via live video feed), Co-Founder, Transition Town Movement
Dr. Ritika Goel, Co-Founder, Students for Medicare
Dr. Trevor Harrison, Professor of Sociology, University of Lethbridge
Walter Davis, Executive Director, National Organizers Alliance
Click here for video and audio from the 2011 Conference. You can also visit our YouTube Channel to check out PIA's videos.
---
2010 - 4th Annual Conference, Worth Fighting For: Public Solutions and Our Common Future
Keynote speaker: David Korten, author of When Corporations Rule the World and Agenda for a New Economy
Plenary speakers:
Robert Chernomas, a well-published Professor of Economics at the University of Manitoba
Alex Molnar, an expert on the commercialization of public education from Arizona State University
Natalie Mehra of the Ontario Health Coalition,
Ricardo Acuna, Executive Director of the Parkland Institute
Meera Karunananthan, National Water Campainger for the Council of Canadians
---
2009 - 3rd Annual Conference, Beyond Band Aids and Bailouts: Public Solutions in Critical Times
Keynote speaker: Judy Rebick, CAW-Sam Gindin Chair, Social Justice & Democracy, Ryerson University
Plenary speakers:
Dr. Elaine Bernard, Executive Director, Labor and Worklife Program, Harvard Law School
Margrete Strand Rangnes, Deputy Director, Blue Green Alliance
Dr. Robert Woollard, Canadian Doctors for Medicare
Diana Gibson, Parkland Institute
---
2008 - 2nd Annual Conference, Not for Sale: Promoting Public Solutions in Today's Alberta
Speakers:Avi Lewis, Allyson Pollock, Deb Brennan, Heather-jane Robertson and Maude Barlow.
---
2007 - 1st Annual Conference, Changing Alberta: Pursuing the Public Interest
Keynote speaker: Tony Clarke, President, Polaris Institute
Plenary speakers:
Tyson Slocum, Director, Public Citizen's Energy Program in Washington D.C.
Annie Kidder, Executive Director and Co-Founder, People for Education
Monica Lysack, Executive Director, Child Care Advocacy Association of Canada